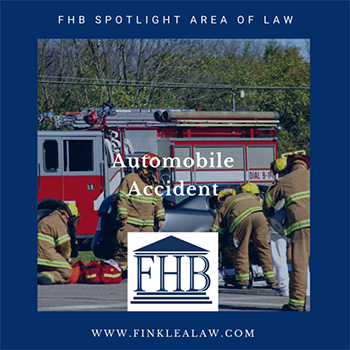 A car accident can change your life in an instant. An accident may leave you temporarily or permanently disabled - unable to work and therefore unable to support your family. Who is responsible for the mounting medical bills? How are you supposed to earn a wage when a catastrophic injury prevents you from working? How do you manage the stress of these changes?
If your automobile accident was the result of the negligence of another, you may be entitled to recover compensation for your past and future medical expenses including the cost of treatment, wages lost during your recovery, and pain and suffering.
At Finklea, Hendrick & Blake, LLC, we handle every aspect of your personal injury:
We expedite the claims process to ensure you receive necessary treatment.
We work with the medical providers to reduce their bills when necessary, to ensure you receive the best recovery.
We work to keep debt collectors at bay while you are awaiting a compensation award.
We thoroughly prepare your case so that it can be settled quickly without sacrificing any of your compensation.
In cases where you are not offered a reasonable amount of compensation, we file suit on your behalf and pursue your claim vigorously and aggressively.
We are lawyers committed to you. We focus on your case so that you can focus on recovering physically, emotionally, and financially. We are here to help remove some of the stress and worry that an accident might bring.
To learn more about how you can benefit from our knowledge and experience, contact us. The consultation is free! If you are unable to come to our office, our attorneys will even accommodate you by traveling to see you! Remember that we are not paid unless you receive compensation for your injuries. No Recovery - No Attorney Fee! Contact us at (843) 317-4900 to schedule your appointment for your free consultation.