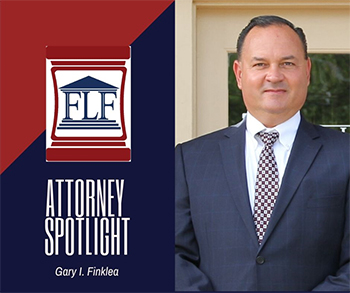 Q: What does your Job entail?
A: As an attorney I help clients with legal needs. Most cases typically start with a phone call or meeting where I either answer the questions and concerns on the spot and that solves the issue. If not, I open a file to provide more in depth representation. Not only is knowledge of the law important in rendering advice but experience in how the law is applied, the judicial process and likely outcomes. I take great pride in our slogan that we are "Attorneys and Counselors at Law". A good lawyer not only knows the law, but provides counsel that transcends the immediate legal issue(s) confronting a client and focus on the "big" picture and what is best for a client's overall situation. I often say we don't want to win the battle and lose the war.
Q: Why did you decide to practice law?
A: I was attracted to law school because I loved politics, studying about our government, and public service. When I entered law school, I had no exposure to the practice of law or the courtroom but had been a Senate Office Page and Congressional Intern in Washington, DC. I think my initial thoughts where that I would use my legal education in public service. As I completed college and began law school, my aspirations didn't change but I discovered working in the private sector would also afford me an opportunity to help people. Through private practice, I do in fact serve the public! Though my career I have been able to serve and help thousands of clients with the legal matters and have an impact on the community in which I live and work.

Q: What do you like most about your job?
A: I would hope it would be obvious that I like the satisfaction out of helping others.

Q: What is a fun fact about you?
A: Outside of my law practice, I enjoy buying, selling, developing, and speculating in real estate. I grew up on the farm and on construction sites with my dad. I enjoy operating tractors and construction equipment – I can hang with the best operator though I am a little rusty!

Q: What do you enjoy doing outside of work?
A: I really don't have any hobbies like golfing or hunting, but I love the outdoors. I really can't make time for myself being married with five children – I enjoy spending time with my family.