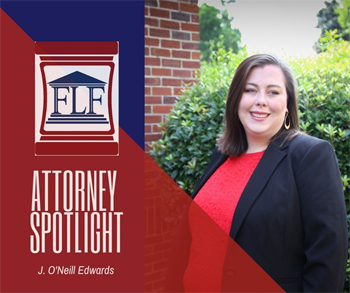 Q: What does your Job entail?
A: Here at Finklea Law Firm I handle Family Law, Business Formation, Real Estate Litigation, Commercial & Real Estate Transactions, Probate, and Consumer Cases.

Q: Why did you decide to practice law?
A: It may sound silly, but what initially planted the idea in my head was a television show called Growing JAG. For a long time, I wanted to be a JAG attorney! JAG planted the seed when I was a kid, and my desire to become an Attorney continued to grow as I had other more meaningful life experiences.

Q: What do you like most about your job?
A: I love being a part of a positive transaction with my clients. A large part of my work involves the purchase of a new home or business. When you get to be a part of someone's new adventure that is incredibly meaningful. Generally speaking, when a client comes in the door, they have a legal problem and they are searching for a positive solution. I love being able to serve the community by helping clients achieve that positive solution.

Q: What is a fun fact about you?
A: I studied at Oxford for a summer in college.

Q: What do you enjoy doing outside of work?
A: I love being crafty!