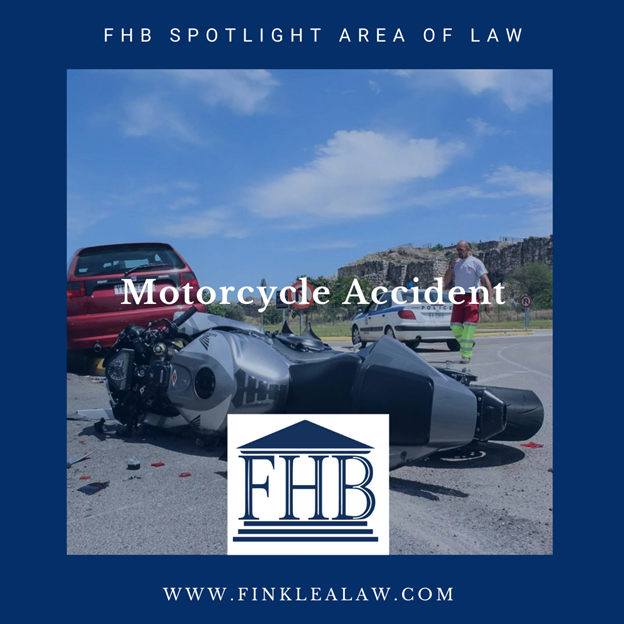 Since May is Motorcycle Safety Awareness Month, to bring additional awareness to this topic, we will adopt it as our monthly Area of Law Spotlight.
When motorcycle accidents occur, they carry the potential for devastating personal injury or death. Injuries can result in long hospitalizations, surgeries, physical therapy, large medical bills, and lost wages due to short-term or long-term disability.
In accidents where the other driver was negligent, you could be entitled to compensation for current and upcoming medical expenses, lost income during your recovery, and pain and suffering. It is important to contact our lawyers immediately to preserve important evidence and ensure your claim is handled properly from the start with the insurance adjusters.
At Finklea, Hendrick & Blake, LLC, we take care of every aspect of your personal injury:
We expedite the claims process to ensure you receive necessary treatment.
We work with the medical providers to reduce their bills when necessary, to ensure you receive the best recovery.
We work to keep debt collectors at bay while you are awaiting a compensation award.
We thoroughly prepare your case so that it can be settled quickly without sacrificing any of your compensation.
In cases where you are not offered a reasonable amount of compensation, we file suit on your behalf and pursue your claim vigorously and aggressively.
We are lawyers committed to you. We focus on your case so that you can focus on recovering physically, emotionally, and financially. In fact, we are not paid unless you receive compensation for your injuries
As a closing note, this is a good opportunity for you to review the insurance coverage you have on your motorcycle. Far too often insurance agents don't sell underinsured motorists' coverage on motorcycles. This is a huge mistake! Underinsured coverage should be procured for all of your vehicles, especially motorcycles based on the likelihood if there is an injury, it will be a serious injury. If you don't have underinsured coverage on the motorcycle involved in the accident you cannot "stack" coverage from other vehicles. Procurement of proper insurance is another important topic, and we will highlight that as a future Spotlight Area of Law.
If you are ever in a motorcycle accident which leads to injury or you simply have questions about the property damage, contact the Finklea, Hendrick & Blake, LLC to discuss your case. If you are unable to physically come to our offices as a result of disability, our attorneys will accommodate you by coming to see you! To make an appointment for a free consultation, contact us at (843)317-4900. Remember that we are a law firm rooted in the Pee Dee. Our staff are an integral part of the community. We don't engage in misleading and embarrassing advertising from offices in distant parts of the state. You actually meet our lawyers and work with them. Our goal is not to have the most cases, our goal is to provide quality representation to our clients! Please let us serve you if the need ever arises.