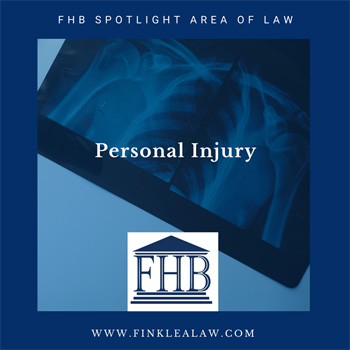 Finklea, Hendrick & Blake, LLC offers a comprehensive approach to personal injury cases by not only handling negotiating the claim with the insurance company but also with issues of property damage, medical care, accident investigation, identifying other potentially liable parties, discovering available insurance coverages, and negotiating medical expenses to ensure the optimum recovery for the client. Our client-focused practice has won hundreds of referrals from satisfied clients who received appropriate compensation for their injuries.

At Finklea, Hendrick & Blake, LLC, we handle every aspect of your personal injury:
We expedite the claims process to ensure you receive necessary treatment.
We work with the medical providers to reduce their bills when necessary to ensure you receive the best recovery.
We work to keep debt collectors at bay while you are awaiting a compensation award.
We thoroughly prepare your case so that it can be settled quickly without sacrificing any of your compensation.
In cases where you are not offered a reasonable amount of compensation, we file suit on your behalf and pursue your claim vigorously and aggressively.
We are lawyers committed to you. We focus on your case so that you can focus on recovering physically, emotionally, and financially. In fact, we are not paid unless you receive compensation for your injuries.
Contact us now for a FREE consultation to review the circumstances in your case. To learn more about how you can benefit from our knowledge and experience, contact us at 843-317-4900.