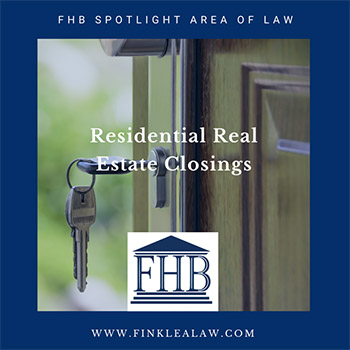 Finklea, Hendrick & Blake, LLC is known for their extensive experience facilitating both Residential and Commercial Real Estate Closings. In South Carolina, most all residential real estate closings must be conducted by an Attorney. Due to the complexity of commercial transactions, an attorney's involvement is imperative. The Attorney's office conducting the closing must possess knowledge of the process, be prepared to resolve the various moving contingencies, and timely communicate with the key players to keep the transaction moving forward. FHB has the largest team of closing paralegals in the Pee Dee and six lawyers that can provide you with competent, timely and reasonably priced representation. Finklea, Hendrick & Blake works closely with, buyers, sellers, Realtors, and Lenders to make the experience as smooth and enjoyable as possible.
FHB provides counseling in a variety of residential real estate matters, including:
Contract Drafting and Negotiation
Residential Purchases
Construction Loan Closings
Refinance Loan Closings
Equity Line Closings
Seller Representation
1031 Property Exchanges
Specific Power of Attorney Preparation & Recording
Title Examination & Issue Resolution
Title Insurance and Title Opinions (Licensed Title Insurance Agents)
Deed Preparation & Recording
Mobile Home Detitlement
Property Easements
Property Subdivision and Development
Finklea, Hendrick & Blake, LLC welcomes the opportunity to represent you regardless of the nature of your real estate transaction. We have offices in Florence, Marion and Hemingway for the convenience of our clients. For more information or to set up an appointment contact us at (843)317-4900.