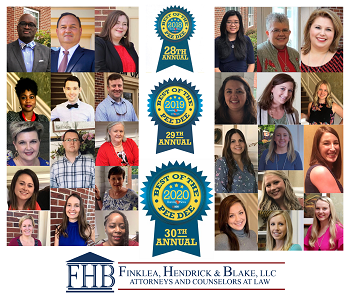 Finklea Law Firm is proud to announce that we have been voted as Best Law Firm in the Morning News' 2020 "Best of the Pee Dee" Contest! It is an honor and a privilege to be recognized for the third year in a row by our clients and community! Thank you for this humbling honor and your votes! In appreciation for the recognition, our firm would like to give back to the community that has embraced our vision for delivering superb legal representation at affordable rates in a timely and professional matter by making a contribution of $12,500.00 to House of Hope. Along with our previous contribution on December 3, 2019, this brings the firm's total contribution to $25,000.00, sufficient to fund the construction of one house for 'House4Homeless.'
Also, we would like to take this opportunity to announce that Finklea Law Firm, LLC has changed its name on July 1, 2020 to Finklea, Hendrick & Blake, LLC signifying a change in structure and ownership. Finklea Law Firm was established in January 2004. Attorney Charlie Blake, Jr., joined the firm in 2006 and Attorney Greg Hendrick joined in 2007. Attorney Finklea boasts the change in recognition of the dedication, service, and commitment the two attorneys have contributed to the firm, their clients, and local community.
It was always Finklea's vision to operate a business where he could serve the community that he was born and raised in. The partnership is not only a culmination of this vision, but it also allows his colleagues to achieve their professional goals. With this change in structure, the firm can continue its mission through other attorneys for decades to come.
Other than the new name, our firm does not expect any noticeable changes to be seen from the outside. However, three new staff members were recently hired, and the firm anticipates a building expansion at the Florence office. Finklea Law Firm opened an office at 2554 E. Hwy 76 in Marion in 2017 and an office at 101 South Main Street, in Hemingway in 2020.
Finklea, Hendrick & Blake is committed to exemplary representation of our clients through hiring experienced staff members that excel in their practice areas. Additionally, our firm utilizes what most in the industry would consider the best legal software available. This technology combined with a competent staff allows us to deliver legal services in a timely manner and at an affordable price.
Again, we would like to thank all of the friends and family of the Finklea Law Firm for voting us as "The Best Law Firm in the Pee Dee." We are honored that our clients have acknowledged the level of services we provide. We look forward to continuing to serve you.